Dec

11
Tags
Related Posts
UNIFIL mission to Lebanon
Indonesia sends UNIFIL mission to Lebanon.
Indonesia maintains its commitment in resolving prolonged conflict on the Lebanon-Israel border as it deploys 1,169 personnel in a peace keeping force to serve in the United Nations Interim Force in Lebanon (UNIFIL).
The peacekeeping mission, titled the Garuda Contingent (Konga), will be leaving Indonesia by mid December 2014 to Lebanon and will stay there for a year to replace their colleagues that returned to the country.
Indonesian Military (TNI) commander Gen. Moeldoko said that the 2014 Konga would serve the ninth mission of UNIFIL in Lebanon after the UN Security Council extends the UNIFIL mandate to Aug. 31, 2015.
"UN Security Council encourages more dialogue to address conflict in Middle East countries, particularly in Lebanon," Moeldoko said in the departure ceremony at military headquarter in Cilangkap, East Jakarta, on Wednesday.
The Konga consists of several units, such as mechanic battalion (850 personnel), military police unit (75 personnel), force protection company (150 personnel), force headquarter support unit (50 personnel) and military outreach Unit (18 personnel).
From the total number of peacekeepers going to Lebanon, only 10 of them are women.
So far Indonesia has only sent 33 women for UN peacekeeping missions.
Moeldoko told the force to maintain Indonesia's values and uphold professionalism. They were told to be aware of abduction and the spread of Ebola.
"Ebola tends to spread in conflict zones, so beware," he said, adding that all soldiers must have sufficient knowledge about rules of engagement and update all information related to UNIFIL authority, so that they could take quick action especially regarding to security in Lebanon-Israel border.
Indonesia currently still has 175 peacekeepers in Haiti and another 175 in Congo. They are scheduled to return home in January 2015.
Indonesia is planning to send peace keeping forces to Mali and Sudan, Africa. It was reported that Indonesia planned to send 800 peace keeping forces to Sudan.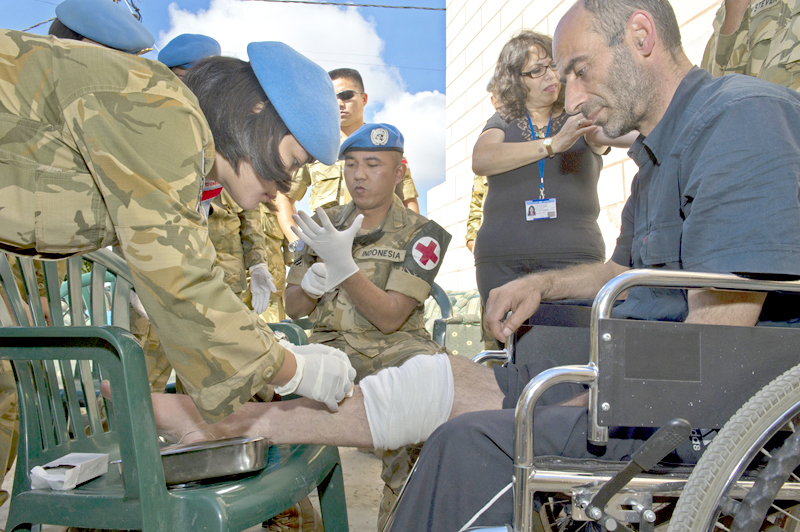 Moeldoko is optimistic that Indonesia could send more peacekeepers to conflict areas as the country has its own peacekeeping training center in Sentul, West Java.
"Our training center has been recognized by the international community. We also have sufficient infrastructure and equipment," he said.
In April, former president Susilo Bambang Yudhoyono — who was himself a UN peacekeeper during the Bosnia-Herzegovina and Serbia conflict from 1995 to 1996 — said Indonesia would like to exceed its stated deployment goal of 4,000 personnel to join the UN peacekeeping forces.
Based on UN data, as of April 2014 Indonesia has sent a total of 1,797 military experts, troops and police personnel to eight different peacekeeping missions, ranking 18th out of the 122 countries contributing troops.
However, Indonesia is still lacking of high ranking military officers to secure strategic position in the United Nations Department of Peace Keeping Operation (UNDPKO), which organizes the missions.
Source: thejakartapost.com
=========================
Indonesian UNIFIL in Lebanon (source: UNIFIL Channel)