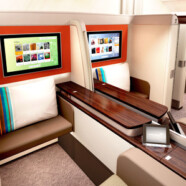 Sep

07
Tags
Related Posts
Jakarta-London Garuda
Mulai Terbangi London, Garuda Gunakan Boeing 777-300ER
PT Garuda Indonesia (Persero) Tbk (Garuda) mulai hari ini, Senin (8/9/2014), mengoperasikan rute penerbangan baru Jakarta–London, pergi-pulang via Amsterdam.
Dengan menggunakan pesawat terbaru Boeing 777-300ER, penerbangan perdana Garuda Indonesia ke London dengan nomor penerbangan GA088 berangkat dari Bandara Internasional Soekarno-Hatta pada pukul 00.40 WIB dan tiba di London Gatwick Airport pada hari yang sama pukul 12.00 waktu setempat.

Dalam keterangan tertulis yang diterima Kompas.com, Senin, Direktur Penjualan dan Pemasaran Garuda Indonesia Erik Meijer mengatakan, pengoperasian rute penerbangan Jakarta–London akan semakin memperkuat kehadiran Garuda Indonesia di pasar internasional, khususnya Eropa.
London merupakan destinasi kedua yang dilayani Garuda Indonesia di Eropa setelah Amsterdam. "Kami meyakini pembukaan rute penerbangan baru ini juga akan semakin mendorong aktivitas ekonomi, bisnis, sosial, wisata, maupun budaya antara Indonesia dan Inggris. Hal ini dimungkinkan dengan semakin terbukanya akses penerbangan di antara kedua negara melalui kehadiran rute baru penerbangan Jakarta–London (pp) yang dilayani Garuda Indonesia," ujar Erik.
Rute penerbangan Jakarta–London via Amsterdam ini merupakan satu-satunya rute penerbangan langsung (direct) dari Indonesia ke Eropa dan menjadi rute penerbangan tercepat, nyaman, dan efisien.
Pembukaan rute Jakarta–London juga akan memudahkan akses bagi penumpang dari wilayah United Kingdom (UK) menuju Indonesia sekaligus menuju kawasan Asia Pasifik.
Garuda Indonesia melayani penerbangan tersebut dengan menggunakan pesawat Boeing 777-300ER berkapasitas sebanyak 314 penumpang, terdiri dari 8 kursi first class, 38 kursi business class, dan 268 kursi economy class. Unit tersebut dilengkapi dengan layanan inflight connectivity dan live TV bagi semua penumpang serta layanan chef on board untuk penumpang first class.
Garuda Indonesia akan melayani penerbangan dari dan menuju London melalui Amsterdam sebanyak lima kali per minggu setiap hari Senin, Rabu, Jumat, Sabtu, dan Minggu.
Sumber: Estu Suryowati / Erlangga Djumena / Kompas
======================
Garuda Indonesia Extends Presence in Europe with a New Service to London.
Garuda Indonesia will begin its long-awaited Boeing 777-300ER Jakarta-London flights on September 8, with a stop-over in Amsterdam.
The airline's direct Jakarta-Amsterdam service, which took wing this weekend, bypasses Garuda's previous fuel stop at Abu Dhabi due to the extended range of the Boeing 777-300ER jet compared to the Airbus A330s which previously plied the route.
Garuda says that Amsterdam is now the airline's hub "for Europe and beyond."
"The opportunities presented by the established SkyTeam hub at Amsterdam are too significant to pass up, as it will be an alternative gateway for passengers who wish to travel beyond Europe" explains Garuda Indonesia CEO Emirsyah Satar.
Amsterdam is home port to Garuda's SkyTeam partner KLM, with connections to the UK and Europe.
However, as of September 8, Garuda's Boeing 777-300ER will continue from Amsterdam through to London's Gatwick airport, and then return to Amsterdam for the final long leg home to Jakarta.
It's a far cry from Garuda's previous plans to tap into the Kangaroo Route between Sydney and London via Jakarta, which was meant to showcase the new flagship Boeing 777-300ER fleet and mark another step in the airline's efforts to present itself as "a global player" in the words of CEO Satar.
This shuffle also saw the promised Boeing 777-300ER upgrade for Sydney-Jakarta axed, with that route now remaining on an Airbus A330.
At least Garuda's Boeing 777-300ER will make the Jakarta-Amsterdam-London flight more comfortable than its older Airbus A330, especially for those in the new first class cabin with a chef on call.
There are eight first class suites.
The suites are arranged in a 1-2-1 layout – the middle pair have a slide-up screen for privacy if you're flying solo, but it also makes for a good companion arrangement when you're travelling with a friend.
Each seat gets a 23 inch screen with full video-on-demand.
At the not-so-pointy end of the plane are 38 'Executive Class' business class seats.
These are a more familiar design – they're the staggered Solstys model from EADS Sogerma.
Down the back of the bus are 268 economy seats in a 3-3-3 layout.
From tip to tail, Garuda's Boeing 777-300ER boasts wireless Internet and live TV including English Premier League matches.
Garuda Indonesia also plans to add new direct routes to Manila and Mumbai this year.
Source: Australian Business Traveller
This video from Garuda presents the highlights of its Boeing 777-300ER passenger experience.

========================================================
About PT Garuda Indonesia (Persero) Tbk.
Presenting a new level of service excellence in air travel, Garuda Indonesia, the national airline of Indonesia, seamlessly connects more than 65 destinations worldwide to not only one of the largest economies in Southeast Asia, but also an array of exotic locations in the beautiful archipelago of Indonesia all at once. With approximately 500 daily flights and a fleet of around 140 aircraft, Garuda Indonesia proudly serves our passengers with the award-winning "Garuda Indonesia Experience" service, which highlights Indonesia's warm hospitality and rich diverse culture.
The airline continuously strives, through its ongoing transformation program, to provide better and more convenient services with one of the youngest fleets in the sky, which should grow to around 194 aircraft by 2015. In March 2014, Garuda Indonesia joined SkyTeam, the global airline alliance with 20 members, providing access to an extensive global network with over 15,700 daily flights to 1,052 destinations in 177 countries.
Source: Aviation News