Nov

26
Tags
Related Posts
Earthquake Indonesia, Japan & China
Earthquakes hit Indonesia (6.8), Japan (6.8) and China (6.3).
November 26, 2014
An earthquake with a preliminary magnitude of 6.8 (PTWC) occurred in Halmahera, Indonesia at 14:34 UTC on November 26, 2014. The epicenter was registered 160 km (99 miles) NW of Kota Ternate, 161 km (100 miles) NW of Ternate, 162 km (101 miles) ENE of Bitung and 165 km (103 miles) W of Tobelo, Indonesia at coordinates 1.975°N 126.546°E. It was followed by series of strong aftershocks, with strongest measured as M5.6.
There was no significant infrastructural damage. Based on all available data there is no tsunami threat from this earthquake.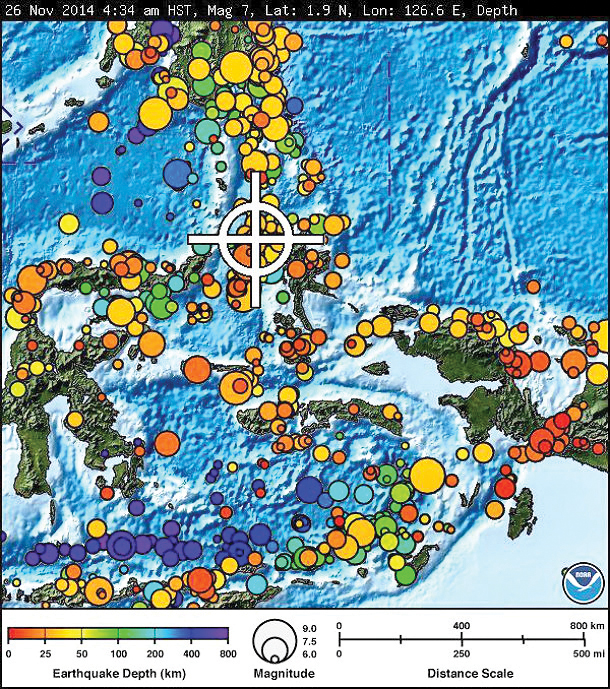 ==========================
November 21, 2014
Strong undersea earthquake hits eastern Indonesia
A strong undersea earthquake hit off the coast of eastern Indonesia on Friday (11/21), but there were no immediate reports of injuries or serious damage and officials said it was unlikely to trigger a tsunami.
The U.S. Geological Survey said the earthquake measured magnitude 6.5 and struck about 122 kilometers (76 miles) off Tobelo, a coastal town on Halmahera Island in North Maluku province. It said it was centered at a depth of about 38 kilometers (24 miles).
The Indonesian Meteorology and Geophysics Agency put the magnitude at 6.7 and said it was unlikely to trigger a tsunami.
Indonesia is prone to earthquakes due to its location on the Pacific "Ring of Fire," an arc of volcanoes and fault lines in the Pacific Basin.
In 2004, a massive earthquake off Sumatra triggered a tsunami that killed 230,000 people in a dozen countries.
==========================
November 22, 2014
10 Homes Collapse after quake in central Japan
A strong earthquake late Saturday (11/22) struck a mountainous area of central Japan that hosted the 1998 winter Olympics, knocking down at least 10 homes in a ski resort town and injuring several people, officials said.
The magnitude-6.8 earthquake struck near Nagano city shortly after 10 p.m. (1300 GMT) at a depth of 10 kilometers (6 miles), the Japan Meteorological Agency said. The U.S. Geological Survey measured the quake's magnitude at 6.2. Since the quake occurred inland, there was no possibility of a tsunami.
One of the hardest-hit areas appeared to be Hakuba, a ski town west of Nagano that hosted events in the 1998 games. Ten homes collapsed there, said Shigeharu Fujimura, a Nagano prefecture disaster management official.
Nine people were trapped underneath the collapsed houses, but they all were rescued, and none had life-threatening injuries, said Hakuba official Tomoyuki Shimokawa.
Many houses also lost water, apparently because of a ruptured pipe, and landslides on two major roads blocked access to some areas. "We are afraid there could be some areas that may have been isolated, so we need to conduct a thorough assessment of damage after sunrise," Fujimura said.
Ryo Nishino, a restaurant owner in Hakuba, told Japanese broadcaster NHK that he had "never experienced a quake that shook so hard. The sideways shaking was enormous." He said he was in the restaurant's wine cellar when the quake struck, and that nothing broke there.
Nagano prefectural police said there were several reports of injuries in Hakuba and Nagano city.
"We are trying to assess the situation as quickly as possible, and we'll do our utmost for the rescue of the injured people," Japan's top government spokesman, Yoshihide Suga, told reporters.
The earthquake was felt across much of northern Japan and in Tokyo, about 200 kilometers (125 miles) southeast of Hakuba.
Japan's Nuclear Regulation Authority said no abnormalities were reported at three nuclear power plants in the affected areas. All of Japan's nuclear plants are offline following a magnitude-9.0 earthquake and massive tsunami in 2011 that sent three reactors at the Fukushima Dai-ichi plant into meltdown. Fukushima is about 250 kilometers (155 miles) northeast of where Saturday's earthquake occurred.
The quake was followed by 21 aftershocks, said Yohei Hasegawa of the Meteorological Agency's earthquake and tsunami division. He warned of further aftershocks and urged residents to watch out for landslides. The area was struck by a magnitude-6.7 earthquake the day after the massive March 2011 quake.
Dozens injured in Japan earthquake (by Euro News)
==========================
November 22, 2014
Strong quake in western China kills at least 1 and injures 15
A strong earthquake struck a lightly populated, mountainous area of western China on Saturday, killing at least one person, injuring 15 others and causing at least two homes to collapse, officials and state media said.
The U.S. Geological Survey said the magnitude-5.9 quake had a depth of 14.6 kilometers (9 miles). It struck in the late afternoon about 30 kilometers (20 miles) from the town of Kangding in Sichuan province. China's seismological agency said the quake's magnitude was 6.3.
(pic)
A woman in her 70s died after being struck by a falling window pane, the official Xinhua News Agency and state broadcaster CCTV said, citing Chen Yunbing, a doctor at the region's Ganzi People's Hospital. No additional information was given about the 15 injured.
A duty officer at the Kangding county government, who gave his surname as Xia, said the quake lasted only a few seconds, and that there had been some reports of cracks in buildings and toppled walls. The area is frequently struck by earthquakes, and Xia said newly constructed buildings in the town of Kangding must be able to withstand those of up to 8 in magnitude, although requirements are less strict in the surrounding rural area.
Along with the two collapsed homes, Kangding's regional airport sustained some damage, though flights were not disrupted, Xinhua said.
Wang Dan, a spokeswoman for the government of Ganzi prefecture, which includes Kangding county, said rescue teams had been dispatched to the epicenter.
Xinhua said workers were restoring the electricity supply to Tagong, the town closest to the epicenter, where a statue of Buddha in a local temple was also damaged. About 100 vehicles were trapped by a landslide on a highway connecting Sichuan and Tibet, and railway service was also halted in the area while workers checked on damage to the line, Xinhua said.
No major damage was reported in the town of Kangding, where CCTV video showed residents strolling the town's streets, looking up at the steep surrounding hillsides and talking on their cellphones.
Kangding and the surrounding county have a population of 129,320 people, about 70 percent of them Tibetan.
Western China is regularly hit by earthquakes, and reports said Saturday's quake could be felt in the Sichuan provincial capital of Chengdu on the plains below the Himalayan foothills. Sichuan was struck by a magnitude-7.9 quake in May 2008 that left nearly 90,000 people dead, many of them in collapsed schools and other poorly constructed buildings.
Construction standards have been significantly tightened since then, and the country's disaster response capacity has improved with better equipment and trained rescue teams.
Source : Associated Press